Forging Press
Forging Press Machines form the shape of the metal by compressive press. It changes the shape and size, but it does not the volume of the part. Usually, it will be used one the products, such as car wheel, bushing, and gear, etc. Forging Press Machines works with hydraulic pressure to exert enough force to press the material into the requested product. According to the positioned press, the Forging Press Machines are divided into vertical type or horizontal type.
<Forging Press Presented by CYC>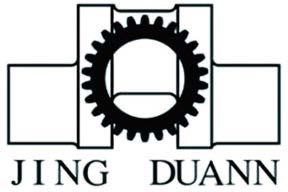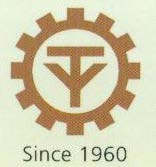 <Vertical Forging Press Specification>
Following Verticle Forging Press Specification is only for your reference. For more information, please kindly download our catalog.
JKP Kunckle Joint Cold Forging Press
Model
Capacity (tons)
Stroke of Ram (mm)
Adjustment of Ram (mm)
Number of Stroke (SPM)
Work Number of Stroke (SPM)
Shut Height (mm)
Rated Tonnage Point (mm)
Main Motor (KW x P)
Press Weight (kg)
Press Dimensions (L x W x H) (mm)
JKP-400M
400
180
15
40
12
600
8
37KWx4P /
30KWx6P
35000
1800x3215x4980
JKP-400L
400
180
15
40
12
620
8
37KWx4P /
30KWx6P
38000
2003x3234x5000
JKP-650L
650
200
15
35
12
807.5
8
55KWx4P /
45KWx6P
48000
2311x3678x5530
JKP-800L
800
220
15
35
12
850
8
75KWx4P /
55KWx6P
68000
2668x4238x6300
JKP-1000L
1000
250
15
30
12
957.5
8
75KWx4P /
55KWx6P
92000
2965x4588x6080
FP High Speed Hot Forging Press
| Model | Capacity (tons) | Stroke of Ram (mm) | Adjustment of Ram (mm) | Number of Stroke (SPM) | Work Number of Stroke (SPM) | Shut Height (mm) | Rated Tonnage Point (mm) | Main Motor (KW x P) | Press Weight (kg) | Press Dimensions (L x W x H) (mm) |
| --- | --- | --- | --- | --- | --- | --- | --- | --- | --- | --- |
| FP-400 | 400 | 175 | 10 | 100 | 18 | 505 | 5 | 30KWx8P | 29500 | 3360x2600x4655 |
| FP-600 | 600 | 200 | 10 | 95 | 18 | 650 | 5 | 37KWx8P | 40000 | 3500x2730x5100 |
| FP-800 | 800 | 250 | 10 | 85 | 16 | 650 | 5 | 45KWx8P | 52000 | 3985x2987x5520 |
| FP-1000 | 1000 | 250 | 10 | 85 | 16 | 800 | 5 | 55KWx8P | 72000 | 4185x2910x5935 |
FP-G High Speed Hot Forging Press
| Model | Capacity (tons) | Stroke of Ram (mm) | Adjustment of Ram (mm) | Number of Stroke (SPM) | Work Number of Stroke (SPM) | Shut Height (mm) | Rated Tonnage Point (mm) | Main Motor (KW x P) | Press Weight (kg) | Press Dimensions (L x W x H) (mm) |
| --- | --- | --- | --- | --- | --- | --- | --- | --- | --- | --- |
| FP-600XG | 600 | 200 | 10 | 70 | 18 | 750 | 6 | 45KWx6P | 50000 | 3425x3405x5280 |
| FP-800XG | 800 | 250 | 10 | 60 | 18 | 850 | 6 | 55KWx6P | 65000 | 3665x3655x5810 |
| FP-1000XG | 1000 | 250 | 10 | 60 | 18 | 950 | 6 | 75KWx6P | 90000 | 3960x3975x6150 |
| FP-1300XG | 1300 | 280 | 10 | 60 | 16 | 950 | 6 | 90KWx6P | 105000 | 4200x4200x6675 |
| FP-1600XG | 1600 | 300 | 10 | 50 | 16 | 1100 | 6 | 110KWx6P | 140000 | 4410x4435x7800 |
FP-X High Speed Forging Press
| Model | Capacity (tons) | Stroke of Ram (mm) | Adjustment of Ram (mm) | Number of Stroke (SPM) | Work Number of Stroke (SPM) | Shut Height (mm) | Rated Tonnage Point (mm) | Main Motor (KW x P) | Press Weight (kg) | Press Dimensions (L x W x H) (mm) |
| --- | --- | --- | --- | --- | --- | --- | --- | --- | --- | --- |
| FP-600X | 600 | 200 | 10 | 95 | 18 | 750 | 6 | 37KWx8P | 46000 | 3300x2790x5280 |
| FP-800X | 800 | 250 | 10 | 85 | 18 | 850 | 6 | 45KWx8P | 60000 | 3630x3010x5810 |
| FP-1000X | 1000 | 250 | 10 | 85 | 18 | 950 | 6 | 55KWx8P | 82000 | 3840x3225x6145 |
| FP-1300X | 1300 | 280 | 10 | 80 | 18 | 950 | 6 | 75KWx8P | 100000 | 4100x3450x6675 |
| FP-1600X | 1600 | 300 | 10 | 65 | 18 | 1100 | 6 | 75KWx12P | 130000 | 4320x3505x8100 |
FP-XG High Speed Forging Press
| Model | Capacity (tons) | Stroke of Ram (mm) | Adjustment of Ram (mm) | Number of Stroke (SPM) | Work Number of Stroke (SPM) | Shut Height (mm) | Rated Tonnage Point (mm) | Main Motor (KW x P) | Press Weight (kg) | Press Dimensions (L x W x H) (mm) |
| --- | --- | --- | --- | --- | --- | --- | --- | --- | --- | --- |
| FP-600XG | 600 | 200 | 10 | 70 | 18 | 750 | 6 | 45KWx6P | 50000 | 3425x3405x5280 |
| FP-800XG | 800 | 250 | 10 | 60 | 18 | 850 | 6 | 55KWx6P | 65000 | 3665x3655x5810 |
| FP-1000XG | 1000 | 250 | 10 | 60 | 18 | 950 | 6 | 75KWx6P | 90000 | 3960x3975x6150 |
| FP-1300XG | 1300 | 280 | 10 | 60 | 16 | 950 | 6 | 90KWx6P | 105000 | 4200x4200x6675 |
| FP-1600XG | 1600 | 300 | 10 | 50 | 16 | 1100 | 6 | 110KWx6P | 140000 | 4410x4435x7800 |
Please Submit Your Needs