Nut Forming Machine
Nut Forming Machine usually produce the screw nuts with the cold forming procedure. The choice of the station number depends on the size and the category of the product. The steps are straightening the wire, cutting off the wire, making nut blank, and then you will need another machine called nut threading machine to thread the inner part of your nut.
<Nut Forming Machine Presented by CYC>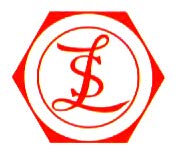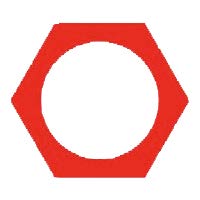 <Nut Forming Machine Specification>
Following Nut Forming Machine Specification is only for your reference. For more information, please kindly download our catalog.
Automatic 5 Station Nut Forming Machine
Model
Max. Cut-Off Ø(mm)
Max. Cut-Off Length(mm)
Max. Kick-Out Length(mm)
Ram Stroke(mm)
Forging Power(ton)
Product
Production Rate(pcs/min)
Main Motor(hp)
Approx. Weight(ton)
Machine Dimensions(L x W x H)(m)
Nut (DIN)
Socket Wrench(ANSI)
LS-C-NF-8B-5S
8
5.5
8
40
30
M3-M5
#4 - #9
300-400
10
3.7
1.8x1.5x1.1
LS-C-NF-11B-5S
11
7
13
50
55
M3-M6
#4 - 5/16
320-400
15
4
2.2x1.5x1.1
LS-C-NF-14B-5S
15
15
18
80
85
M6-M8
1/4 - 3/8
200-260
20
7.5
2.9x2x1.3
LS-C-NF-17B-5S
17
18
18
90
110
M8-M10
5/16 - 3/8
170-200
25
8
3.1x2.1x1.4
LS-C-NF-19B-5S
19
20
25
100
130
M8-M12
3/8 - 1/2
150-190
30
12
3.3x2.1x1.5
LS-C-NF-22B-5S
21
25
25
100
150
M10-M14
3/8 - 9/16
140-160
50
15
3.6x2.4x1.7
LS-C-NF-24B-5S
24
30
35
110
240
M12-M16
7/16 - 5/8
120-140
50
23
4.2x2.6x1.8
LS-C-NF-28B-5S
28
30
35
120
300
M16-M18
7/16 - 7/8
100-130
50
26
4.9x2.8x2
LS-C-NF-33B-5S
32
30
40
146
400
M16-M22
5/8 - 7/8
85-105
100
39
4.9x2.8x2
LS-C-NF-36B-5S
36
30
40
160
520
M20-M24
5/8 - 1
75-90
150
45
5.5x3.2x2.3
LS-C-NF-41B-5S
40
45
60
210
620
M22-M27
7/8 - 1
65-75
200
65
6.5x3.5x2.5
Automatic 6 Station Nut Forming Machine
Model
Max. Cut-Off Ø(mm)
Max. Cut-Off Length(mm)
Max. Kick-Out Length(mm)
Ram Stroke(mm)
Forging Power(ton)
Product
Production Rate(pcs/min)
Main Motor(hp)
Approx. Weight(ton)
Machine Dimensions(L x W x H)(m)
Nut (DIN)
Socket Wrench(ANSI)
LS-C-NF-8B-6S
8
5.5
8
40
35
M3-M5
#4 - #9
300-360
10
3.8
1.9x1.6x1
LS-C-NF-11B-6S
11
7
13
50
60
M3-M6
#4 - 5/16
260-360
15
5
2.3x1.8x1.1
LS-C-NF-14B-6S
15
15
18
80
90
M6-M8
1/4 - 3/8
200-230
20
8
2.9x2.1x1.3
LS-C-NF-17B-6S
17
18
18
90
120
M8-M10
5/16 - 3/8
160-180
20
10
3.2x2.2x1.4
LS-C-NF-19B-6S
19
20
25
100
140
M8-M12
3/8 - 1/2
120-160
40
14
3.5x2.2x1.5
LS-C-NF-22B-6S
21
25
25
100
160
M10-M14
3/8 - 9/16
100-140
50
17
3.9x2.5x1.7
LS-C-NF-24B-6S
24
30
35
110
260
M12-M16
7/16 - 5/8
100-120
50
25
4.3x2.7x1.7
LS-C-NF-28B-6S
28
30
35
120
330
M16-M18
7/16 - 7/8
90-100
75
29
5x2.7x2
LS-C-NF-33B-6S
32
30
40
146
420
M16-M22
5/8 - 7/8
80-100
125
44
5.5x3x2
LS-C-NF-36B-6S
36
30
40
160
560
M20-M24
5/8 - 1
70-90
175
50
6x3x2.2
LS-C-NF-41B-6S
40
45
60
210
650
M22-M27
7/8 - 1
65-75
250
70
7.7x3x2.5
LS-C-NF-45B-6S
45
50
60
210
750
M24-M30
7/8 - 1 1/8
50-60
300
140
9x3.5x2.7
LS-C-NF-50B-6S
50
56
60
210
840
M27-M32
1 - 1 1/4
45-55
400
150
9x3.5x2.7
Automatic 6 Station Long Stroke Nut Forming Machine
Model
Max. Cut-Off Ø(mm)
Max. Cut-Off Length(mm)
Max. Kick-Out Length(mm)
Ram Stroke(mm)
Forging Power(ton)
Product
Production Rate(pcs/min)
Main Motor(hp)
Approx. Weight(ton)
Machine Dimensions(L x W x H)(m)
Nut (DIN)
Socket Wrench(ANSI)
LS-C-NF-8B-6SL
8
8
20
50
35
M3-M5
#4 - #9
300-360
10
3.8
1.9x1.6x1
LS-C-NF-11B-6SL
11
12
20up
60
65
M3-M6
#4 - 5/16
260-360
15
5
2.3x1.8x1.1
LS-C-NF-14B-6SL
16
20
40up
120
100
M6-M10
1/4 - 3/8
200-230
20
8
2.9x2.1x1.3
LS-C-NF-17B-6SL
17
22
40up
130
130
M8-M10
5/16 - 3/8
160-180
20
10
3.2x2.2x1.4
LS-C-NF-19B-6SL
19
32
50up
160
160
M8-M12
3/8 - 1/2
120-160
40
14
3.5x2.2x1.5
LS-C-NF-22B-6SL
21
35
50up
180
190
M10-M14
3/8 - 9/16
100-140
50
17
3.9x2.5x1.7
LS-C-NF-24B-6SL
24
40
50up
200
280
M12-M16
7/16 - 5/8
100-120
50
25
4.3x2.7x1.7
LS-C-NF-28B-6SL
28
45
50up
220
370
M16-M18
7/16 - 7/8
90-100
75
29
5x2.7x2
LS-C-NF-33B-6SL
32
60
60up
240
450
M16-M22
5/8 - 7/8
80-100
125
44
5.5x3x2
LS-C-NF-36B-6SL
36
70
60up
280
630
M20-M24
5/8 - 1
70-90
175
50
6x3x2.2
LS-C-NF-41B-6SL
40
80
60up
280
700
M22-M27
7/8 - 1
65-75
250
70
7.7x3x2.5
LS-C-NF-45B-6SL
45
80
60up
360
800
M24-M30
7/8 - 1 1/8
50-60
300
140
9x3.5x2.7
LS-C-NF-50B-6SL
50
80
60up
360
900
M27-M32
1 - 1 1/4
45-55
400
150
9x3.5x2.7
Automatic 7 Station Long Stroke Nut Forming Machine
Model
Max. Cut-Off Ø(mm)
Max. Cut-Off Length(mm)
Max. Kick-Out Length(mm)
Ram Stroke(mm)
Forging Power(ton)
Product
Production Rate(pcs/min)
Main Motor(hp)
Approx. Weight(ton)
Machine Dimensions(L x W x H)(m)
Nut (DIN)
Socket Wrench(ANSI)
LS-C-NF-8B-7SL
8
8
20
50
35
M3-M5
#4 - #9
170-190
15
4.2
2.1x1.7x1.1
LS-C-NF-11B-7SL
11
12
20up
60
65
M3-M6
#4 - 5/16
150-170
20
5.5
2.7x1.8x1.1
LS-C-NF-14B-7SL
16
20
40up
120
100
M6-M10
1/4 - 3/8
130-150
30
8.7
3.3x2.2x1.4
LS-C-NF-17B-7SL
17
22
40up
130
135
M8-M10
5/16 - 3/8
100-120
50
11.5
3.7x2.4x1.5
LS-C-NF-19B-7SL
19
32
50up
160
165
M8-M12
3/8 - 1/2
80-100
75
17.5
4.2x2.4x1.8
LS-C-NF-22B-7SL
21
35
50up
180
200
M10-M14
3/8 - 9/16
80-90
75
26
4.6x2.8x1.8
LS-C-NF-24B-7SL
24
40
50up
200
295
M12-M16
7/16 - 5/8
70-80
125
31
5.3x3x2
LS-C-NF-28B-7SL
28
45
50up
220
390
M16-M18
7/16 - 7/8
55-70
150
44
5.5x3x2.1
LS-C-NF-33B-7SL
32
60
60up
240
480
M16-M22
5/8 - 7/8
50-60
250
53
6.2x3.2x2.2
LS-C-NF-36B-7SL
36
70
60up
280
630
M20-M24
5/8 - 1
50-60
250
65
7x3.1x2.5
LS-C-NF-41B-7SL
40
80
60up
280
700
M22-M27
7/8 - 1
45-55
300
92
7.8x3x2.6
Please Submit Your Needs